Gokiso Super Climber rear hub
September 22, 2020


Venn Var 45 TCC filament wound tubeless clincher rim brake bike carbon rim
March 4, 2021
Venn Var 40 TCD filament wound tubeless clincher disc brake carbon rim
100% of buyers said they were satisfied.
Free shipping worldwide
All orders are shipped in 1-3 business days.
Hassle Free Returns
No questions asked, 14 days from receipt return policy.
Secure Checkout
SSL Enabled Secure Checkout.
$449,90 (ex. VAT $359,92)

Filament wound full carbon tubeless, or clincher rim for gravel bikes and wide tires, 40mm profile. Disc brake.
Share
The Venn Var 40 TCD wide disc brake 40mm gravel carbon rim is aerodynamically optimised for wide tire use. The objective was to deliver a rim that is aerodynamic at large yaw angles.
Riding a bike over uneven terrain means that it is impossible to hold the wheel straight. It bounces, moves, you correct your direction to pick the best line, but you do not want to slow down. This means that your front wheel will not spend much time facing the direction that you intend to travel. The Venn Var 40 TCD carbon rim was developed to make you go faster in real gravel conditions, not in a tunnel. The rim's spoke hole strength is 100% higher compared to other carbon rims in the market. This ensures that you can use your wheels in any condition without fear of damage.
VAR filament winding process utilises slit tape towpreg to accurately lay up the carbon fiber in an automated, computer controlled process.
The use of preimpregnated carbon fiber tape allows us to use the latest resins that offer the optimal blend toughness and impact resistance. Var rims can therefore be used in challenging conditions where extra toughness is of great benefit.
The Venn Var 40 TCD 40mm gravel carbon rim is compatible with clincher, or tubeless tires that when used with a sealant virtually eliminate the inconvenience of having a flat tire away from home, or during a race.
We can assemble your set of carbon wheels using hubs of your choice.
FAQ
How is this rim different to other Venn disc brake rims?
It is internally wider (23mm vs 21mm) which better supports wider tires. This ensures that a relatively wide tire (for example a 28mm tire) obtains a more aerodynamic shape, and that it is more stable on the rim so that it rolls less when cornering at higher speeds.
Can the Venn Var 40 TCD carbon rim be used for MTB riding
Yes, it is strong and durable enough for XC use, while the slightly rounded and sloped rim sides protect it from most of the rock damage. However, the main advantage of this rim over standard MTB rims is its superior aerodynamics when used with tires 28-30mm wide.
Interactive aerodynamics data
*NOTE: VAR 40 data is with a 28mm tire
Rim profile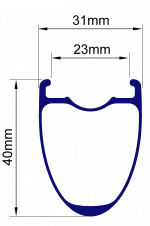 Carbon filament winding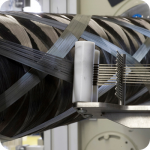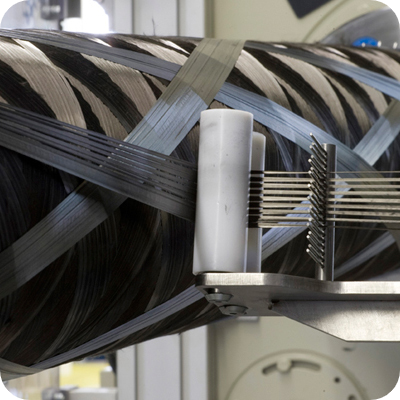 | | |
| --- | --- |
| Brand | Venn |
| Manufacturing technology | Machine filament wound |
| Brake compatibility | Disc |
| Tire type | Tubeless/clincher |
| Size | 29", 700c |
| Width | 31mm external |
| Depth | 40mm |
| Rim weight | 480g +/- 15g |
| Rider weight limit | 110kg |
| Hole number | 24 holes |
| ERD | 559mm |
Related products
$383,00 (ex. VAT $306,40)

$360,00 (ex. VAT $234,40)

$349,00 (ex. VAT $279,20)